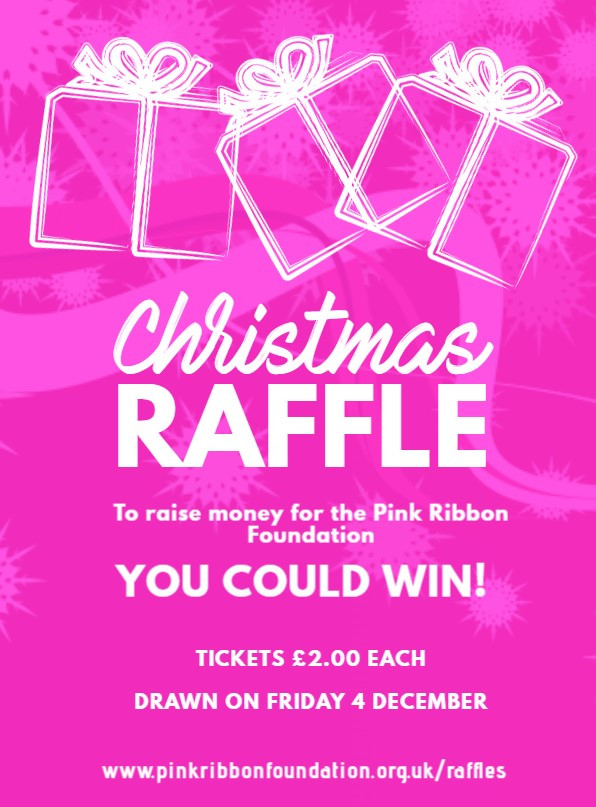 Christmas Raffle
Ends 04/12/2020 00:00:00
Tickets are £2.00. There are a maximum of 5000 available.
The more tickets you buy, the greater your chance of winning!
Description
Our Christmas Raffle gives you the chance to win some wonderful prizes, delivered just in time for the big day! Keep them for yourself or give them as gifts to loved ones - either way you have to be in it to win it. Tickets are just £2.00 each and the money raised will support those affected by breast cancer.
Prizes include:
Sezane.com: Handcrafted Farrow Bag in chocolate £190.00
Fremaux Delorme Co Ltd: Luxury LEONOR bathrobe worth £177.00
Hello Body UK: The Fabulous 4 Set (coco) £104.00
Moda in Pelle: e-gift voucher worth £100.00
MedicoBeauty.com: e-gift voucher worth £100.00
Rejuvenated: Christmas Special Edition Radiant Skin Collections box worth £99.50
Sensory Retreats: Divine Escape Restore Collection worth £64.00
Nudient: iPhone Dusty Pink case and Clay Beige Card Holder £55.80
Little Miss London: x2 of their boutique candle worth £50.00
JDK Fitness: Pink Punch leggings worth £40.00 (x3 pairs to giveaway)
The Outdoor Guide: Litter Hero Kit worth £40.00
Chew Valley Distillery: A bottle of London Dry Gin worth £35.00
Roccabox: three month subscription box worth £30.00
The Beauty Crop: YES WAY ROSE gift set worth £23.00
….. and more!
The raffle will be drawn at midnight on Friday 4th December 2020 and the winners will be notified the following day with prizes being sent directly from the supporting companies.
Our thanks go to all of the amazing companies and brands who have kindly donated items to the Pink Ribbon Foundation in order to help us raise vital funds to support our work.
Terms and conditions of Raffle participation:
1. By purchasing an entry you agree to these terms and conditions. Any participation instructions form part of these terms and conditions. Any entry not complying with these terms and conditions will be invalid. The Pink Ribbon Foundation's decisions pursuant to these terms and conditions shall be final and binding.
2. You represent and agree that:
a. You are 18 years of age or over.
b. You are a resident of the United Kingdom.
c. You will not buy or purport to buy an entry in this raffle on behalf of anybody under the age of 18.
d. You will provide accurate entry information, including your name and personal address
3. You agree that you shall not be entitled to receive any prize if you are unable to substantiate to the Promoter your representations under paragraph 2.
4. Entry is open to all residents of the UK (including The Pink Ribbon Foundation volunteers) but excludes: The Pink Ribbon Foundation trustees or directors; or The Pink Ribbon Foundation employees or third parties each directly involved in the administration or management of the Raffle, or with the ability to influence the Raffle results.
5. Entry costs £2.00 per play, payable in advance. Entries may not be sold to or by anyone under 18 years of age. Each ticket represents one entry only.
6. The Pink Ribbon Foundation may (without giving any reason or notice, at its absolute discretion) terminate or suspend the raffle.
7. Christmas Raffle Raffle draw will be conducted on 05/12/2020, or if this is not possible, on the next working day. The draw takes place utilising a Random Number Generator that has been tested and approved by an independent, third party test house. The results of the draw are final.
8. Winners will be notified as soon as possible after the draw. A list of winning ticket numbers will be made available within 7 days of the draw here , unless there are delays in contacting the winners, in which case the list will be made available as soon as the winners' names are finalised. There are no alternatives to any prize except where stated and no interest is payable.
9. The Pink Ribbon Foundation would like you to gamble responsibly.
10. If you feel you have a problem with gambling, visit www.begambleaware.org or call the National Gambling Helpline on 0808 8020 133.
11. The Pink Ribbon Foundation reserves the right to substitute a prize for a prize of equivalent or greater value, or at its sole discretion, the cash value of a prize, if this is necessary for reasons beyond The Pink Ribbon Foundation's control.
Registered with London Borough of Bromley under the terms of the Gambling Act 2005, reference no. 20/00464/SOCLOT